Frequently Asked Questions (FAQ)
Help Topics
Sign In or Register
Ordering
Shipping and Delivery
Returns and Refunds
Contact Customer Service
A. Sign In or Register
How do I create an account?
Creating an account to S&R Online shop is fast and easy. Click Register and fill out the required information. Once done with your registration, you may now enjoy shopping at S&R Online.
How do I reset my password?
Tap on the "Forgot Your Password" in the login page. Then, input your email address and click on "Send Password Reset Link". A link will be sent to your email address that will enable you to change your password. Once you have changed your password, you may now log-in to your account using your new password.
How do I sign up for membership online?
Log in to https://www.snrshopping.com/ register, and click "Buy Membership" for the online application.
Membership is available to all qualifying individuals 18 years of age and over. We have two (2) types of memberships: Gold and Business Memberships.
Gold or Individual membership – Annual fee is 700.00 PHP with an option for an additional 1 supplementary card for 400.00 PHP.
Requirements:
Note: Please upload a clear photo of your full face and ID.
How can I get my membership card?
Your Membership Card will be delivered to you together with your order.
How do I link my S&R membership card number to my S&R online account?
To link your S&R Membership Card on The S&R website, log in to your account. Go to My Account, click "Account Details", and input the last 12-digit number of your membership card and click "Update Profile" to save.
Can I still place an order online if my S&R membership card has expired?
Yes, you may still place an order even if your S&R membership has expired. However, there will be an additional 5% surcharge on top of the subtotal. To avoid the additional charge, please have your card renewed at any S&R warehouse club.
How can I renew my S&R membership online?
Please have your card renewed at the nearest S&R warehouse club and start enjoying unique membership benefits!
Can I still shop online even if I am not an S&R member?
Yes, you are able to shop online with a 5% surcharge for nonmembers. If you will avail our membership card this will not apply upon check out.
B. Ordering
What are the available modes of payment?
We accept all major credit cards supported by VISA and Mastercard.
We are working to include more payment options for our customer's convenience.
I've been charged with the wrong amount for my order, what do I need to do?
If you think you're accidentally charged with the wrong amount, please contact our Friendly Customer Service at Contact Us at [email protected]
Why is my online payment failing?
Your online payment failing due to the following reasons:
You've entered incorrect Credit/Debit card details such as the cardholder's name, card number, card expiry date, and CVV.
The card details are invalid or not updated.
The credit or debit card is expired or canceled.
The bank flagged the cardholder's account.
Your credit card limit has been reached or maxed out.
Your card may be blocked for online transactions.
Is there a purchase limit on the orders?
We don't have a purchase limit for orders, the maximum amount will depend on the balance available on your card.
Can I add items on my existing order?
We regret to inform you that adding more items on your existing order is not possible once the order has been successfully confirmed. You may create another order on a separate transaction.
Can I remove or delete items from my cart?
Yes, you have the option to remove or add items on your cart before checking out. Please see the below screenshots for reference and guide.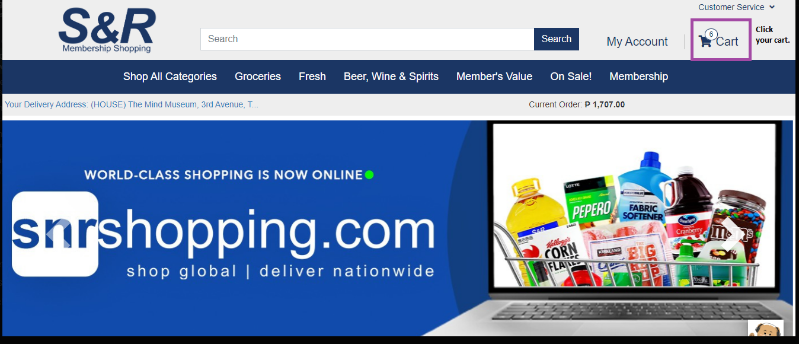 How do I get updates on my order?
Log in to The then go to My Account > My Orders > Status. Or you may also call our friendly Customer Care at (02) 8252-1888 or send an email at [email protected]
What is My Favorites?
"My Favorites" is your personalized shopping list. It will show your purchased history and the most frequent items that you've chosen. Fill your cart in minutes by clicking add to cart.
What is "Wish Lists"?
Set of items that you can customize based on your liking. An add to "Wish List" button can be found on each product page.
Is there a minimum order value?
Yes, the subtotal of all items at checkout must be at least P2, 000.00. This minimum order amount may be subject to change.
What is a Shopper?
A shopper is a dedicated person assigned to pick the item in your order list. Our shoppers are well-trained for quality standards and we ensure that they understand how to choose quality products for our valued customers. Also, they are knowledgeable in checking the expiry or best before date and picking the correct items before our Fulfillment Team securely packs your order.
Do you accept bulk orders?
Yes, S&R remains to be a low-price leader for its great imported products in large sizes.
How do you keep my groceries fresh?
Our delivery vehicles are equipped with temperature control so orders are kept fresh until they are delivered. We recommend that you refrigerate or freeze your perishable items upon receipt to maintain the quality and safety of your items.
How are my items packed and delivered?
S&R uses reusable bags and/ or boxes for next-day delivery orders and reusable boxes for nationwide delivery orders. We highly encourage you to #SaveNRecycle as they are very ecological and free of charge.
C. Shipping Delivery
What areas do you currently serve?
We offer next-day delivery for areas within 3 kilometers from any S&R warehouse clubs.
What are your delivery hours?
We deliver from 8:00 AM to 8:00 PM daily. Our delivery partners will be at your doorstep at your reserved delivery date and time.
Can I still place an order online if it is already past the closing of S&R store hours?
Yes, you may place an order at any time of the day. You can still place an order online however delivery slots may be subject to availability. We offer next-day delivery.
What happens if I am unable to accept my order?
You have the option to have your delivery rescheduled within 24-48 hours. Please email our Customer Service at [email protected] to check available date and time slot that is convenient for you and works with our delivery partners. No additional charges will be applied.
If your order includes perishable goods, we will store your items in a storage area with the right temperature. As such, we highly suggest rescheduling the delivery within 12-24 hours to maintain the freshness and quality of the items.
D. Returns and Refunds
What is your return policy?
If the item you received is damaged/faulty, expired, does not match the description, or incorrect based on your order or confirmed substitution, you may contact our friendly Customer Care and we will replace the item with the good or correct item subject to product availability. All items that are for return/refund must meet the following conditions:
For non-food items, the merchandise must be returned complete with original packaging, manuals, and factory seals intact.
For food items, the merchandise must be returned complete with original packaging, manuals, and factory seals intact.
For fresh/perishable items, returns are only allowed within 3 hours from the receipt of the items.
The following merchandise are considered not returnable or exchangeable:
Damaged or altered merchandise cannot be returned.
Undergarments are non-returnable nor exchangeable due to hygiene purposes.
Other important details:
Replacement or exchange will be done in the same warehouse location where the item/s was purchased. (For online)
All defective merchandise for replacement or exchange must be returned within 7 days from the date of purchase based on the POS sales transaction receipt
All merchandise for replacement or exchange must be accompanied by the original S&R Membership Shopping POS sales transaction receipt.
Certain items may be designated as "Service Center" items and these are non-refundable and will be returned to an authorized Service Center for repair under the manufacturer's warranty.
Subject to Terms and Conditions.
What is your refund policy?
Your refund will be processed after a quality evaluation of the returned item. The refund timeline may vary depending on your bank policy.
E. Contact Customer Service
Can't find what you're looking for?
Send a message to our friendly Customer Care from 8:00 AM to 6:00 PM daily or you can email us at [email protected]. We will get back to you soon or you can chat with us live via Messenger. Thank you!